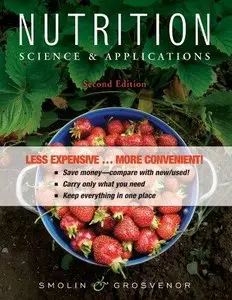 Nutrition: Science and Applications (2nd Edition)
Wiley | ISBN : 047052474X | January 7, 2010 | 945 pages | PDF | 52MB
Ice cream or sorbet, red meat or fish, fruits or pastries, eggs or oatmeal-our lives are filled with choices about what we eat. That's why Lori Smolin and Mary Grosvenor's Nutrition: Science and Applications helps you understand how to analyze nutritional information and apply your knowledge to the nutrition issues you face each and every day.
DOWNLOAD LINKS
*Read before commenting*
If you can't view contents, let's use PDF-XChange Viewer (personally the best app for reading PDF) or Foxit.