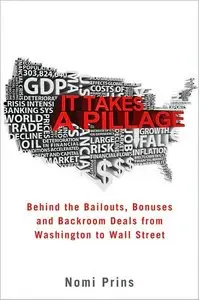 Nomi Prins "It Takes a Pillage: Behind the Bailouts, Bonuses, and Backroom Deals from Washington to Wall Street"
Wiley | English | 2009-09-22 | ISBN: 0470529598 | 304 pages | PDF | 1,3 MB
A former Wall Street manager turned muckraking journalist gets inside how the banks looted the Treasury, stole the bailout, and continued with business as usual
We've all watched as packs of former Big Finance leaders commandeer posts in Washington and lavish trillions in bailouts to "save" big Wall Street firms that will use that money for anything and everything except to fill in Main Street's potholes.
Former Wall Streeter Nomi Prins has been watching, too, and she isn't going to let them get away with it. She knows all about Big Finance and big money and moving numbers - and in this book she exposes the fundamental follies of our economic system and the schemes of the bigwigs who have no intention of letting it change. Prins:
• Explains that the current crisis did not happen because ordinary citizens were able to borrow a little more than they could afford, but because Wall Street converted loans into assets that allowed it to borrow much, much more than it could afford.
• Reveals all the ways corporations inhaling bailout money have gamed the system to get the most money with the least oversight.
• Exposes the power-bankers that bagged more than $5 billion in compensation before and after their companies siphoned off more than a trillion dollars in federal bailout subsidies.
• Shows how the most egregious pillagers work at the Fed and Treasury department, detailing how Hank Paulson, Ben Bernanke, and Tim Geithner siphoned off $10.7 trillion from the public's future for Big Finance's present.
• Slams a financial system that will not change, if our government doesn't force it to change, no matter what happens in the so-called free market.
• Is a former managing director at Goldman Sachs, now a senior fellow at Demos, who writes regularly on corruption in Washington and Wall Street for news outlets ranging from Fortune to Mother Jones. It Takes a Pillage is her third non-fiction book.
If you've found yourself enraged and frustrated with how the bank bailout went bust for the American people, or how Wall Street continues to operate as if the rest of the world doesn't matter, It Takes a Pillage gives voice to your outrage, and provides a deeper understanding of what we really have to be angry about and how we can fight for some real change.
To start download click HERE: