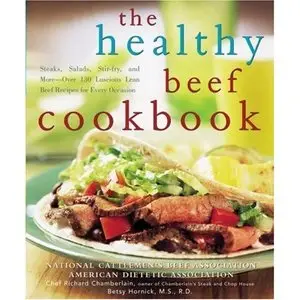 The Healthy Beef Cookbook: Steaks, Salads, Stir-fry, and More - Over 130 Luscious Lean Beef Recipes for Every Occasion
Publisher: Wiley | ISBN: 0471738816 | edition 2005 | PDF | 288 pages | 12,6 mb
Lean beef can be a key part of a healthy diet. Calorie for calorie, it's one of nature's most nutrient-rich foods. Now, the National Cattlemen's Beef Association and the American Dietetic Association show today's health-conscious cooks exciting new ways to use lean beef in everything from quick and easy mid-week suppers to special occasion meals. This full-color healthy cookbook features more than 130 delicious, nutritious recipes that call for one of the 22 cuts of beef that meet government guidelines for lean labeling.