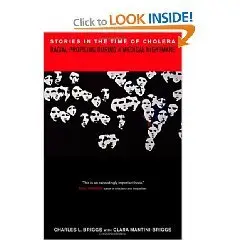 Stories in the Time of Cholera: Racial Profiling During a Medical Nightmare (Hardcover)
Publisher: University of California Press | ISBN: 0520230310 | edition 2003 | PDF | 390 pages | 5.21mb
Cholera, although it can kill an adult through dehydration in half a day, is easily treated. Yet in 1992-93, some five hundred people died from cholera in the Orinoco Delta of eastern Venezuela. In some communities, a third of the adults died in a single night, as anthropologist Charles Briggs and Clara Mantini-Briggs, a Venezuelan public health physician, reveal in their frontline report.