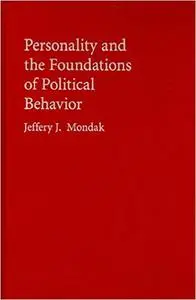 Jeffery J. Mondak, "Personality and the Foundations of Political Behavior"
English | ISBN: 0521140951, 0521192935 | 2010 | 246 pages | EPUB | 1 MB
Personality and the Foundations of Political Behavior is the first study in more than 30 years to investigate the broad significance of personality traits for mass political behavior. Drawing on the Big Five personality trait framework, Jeffery J. Mondak argues that attention to personality provides a valuable means to integrate biological and environmental influences in rich, nuanced theories and empirical tests of the antecedents of political behavior. Development of such holistic accounts is critical, Mondak contends, if inquiry is to move beyond simple 'blank slate' environmental depictions of political engagement. Analyses examining multiple facets of political information, political attitudes and participation reveal that the Big Five trait dimensions - openness to experience, conscientiousness, extraversion, agreeableness and emotional stability - produce both direct and indirect effects on a wide range of political phenomena.