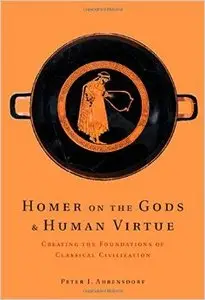 Peter J. Ahrensdorf, "Homer on the Gods and Human Virtue: Creating the Foundations of Classical Civilization"
English | ISBN: 0521193885 | 2014 | 304 pages | PDF | 1 MB
This book seeks to restore Homer to his rightful place among the principal figures in the history of political and moral philosophy. Through this fresh and provocative analysis of the Iliad and the Odyssey, Peter J. Ahrensdorf examines Homer's understanding of the best life, the nature of the divine, and the nature of human excellence. According to Ahrensdorf, Homer teaches that human greatness eclipses that of the gods, that the contemplative and compassionate singer ultimately surpasses the heroic warrior in grandeur, and that it is the courageously questioning Achilles, not the loyal Hector or even the wily Odysseus, who comes closest to the humane wisdom of Homer himself. Thanks to Homer, two of the distinctive features of Greek civilization are its extraordinary celebration of human excellence, as can be seen in Greek athletics, sculpture, and nudity, and its singular questioning of the divine, as can be seen in Greek philosophy.