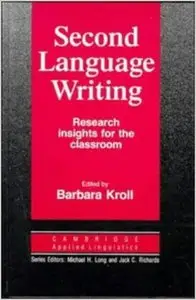 Barbara Kroll "Second Language Writing: Research Insights for the Classroom (Cambridge Applied Linguistics)"
Cambridge University Press | English | 1990-10-26 | ISBN: 0521383838 | 256 pages | PDF | 2,2 MB
The teaching of writing has become an area of increased interest and importance for teachers of second and foreign languages as well as educational researchers. This comprehensive collection covers the major issues writing teachers face in setting agendas for teaching writing to non-native speakers. The thirteen original articles, written by recognized scholars in the field, present original research studies, both qualitative and quantitative, and practical applications for the classroom teacher. The topics covered include the composing process of second language writers, variables in second language writing performance, teacher response to student writing and student processing of feedback, writing assessment, and the reading/writing connection. The book further provides a historical view of the evolution in approaches to the teaching of second language writing and a coherent view of current approaches and issues. Second Language Writing is addressed to second and foreign language teachers, teachers in training, graduate students in education and applied linguistics, educational researchers, and other educators concerned with the teaching of writing.
To start download click HERE: