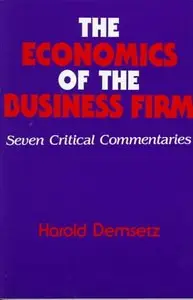 The Economics of the Business Firm: Seven Critical Commentaries By Harold Demsetz
Publisher: C U P 1996 | 191 Pages | ISBN: 0521588650 , 0521481198 | PDF | 2 MB
The essays in this volume break new ground in the theory of the business firm and its applications in economics. A leading analyst of industrial organization, Professor Demsetz critically examines current debates on the existence, definition, and organization of the firm and discusses issues related to the emerging theory of the firm. He then analyzes the relation among business ownership, wealth, and economic development. Subsequent essays offer new perspectives on competition, profit maximization and rational behavior, and shed new light on managers' compensation, antitrust policy, and the accuracy of firms' accounting data.
!!!No Mirrors below, please! Follow Rules!