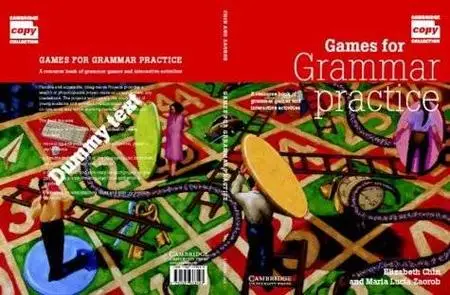 Maria Lucia Zaorob / Elizabeth Chin, «Games for Grammar Practice: A Resource Book of Grammar Games and Interactive Activities»
Cambridge University Press | ISBN 0521663423 | English | DJVU | 9,58 Mb | 114 Pages
DOWNLOAD LINK:
http://rapidshare.de/files/35361209/Games.for.Grammar.Practice-0521663423.rar
MD5: 5428194882CCAF0F55F4A9FB53F13DF5
Editorial Reviews


Review:

' … a title filled with motivating and interesting grammar practice … this is definitely a very welcome and innovative book which conciliates the two apparently irreconcilable elements: grammar and fun.' New Routes Newsletter, Brazil
'Clear and easy to use, inventive and with no nasty surprises - should become one of the mainstays of the staffroom.' TEFL Farm



Book Description:

Games for Grammar Practice is a teacher's resource book containing a selection of more than forty games and activities for grammar practice. The activities are designed to promote intensive and interactive practice with learners of all ages from elementary to advanced level. Photocopiable pages and step-by-step instructions provide instant supplementary activities for busy teachers. The emphasis on peer interaction and cooperation helps students find grammar practice meaningful and rewarding. The grammar areas covered in the book are all commonly found in courses, making the activities easy to slot into a lesson.