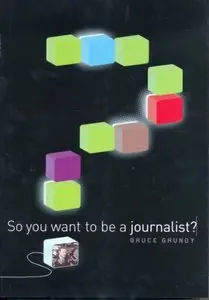 So You Want To Be A Journalist?
Publisher: Cambridge University Press | ISBN: 0521690498 | edition 2007 PDF | 369 pages | 5,3 mb
This book is a practical, hands-on guide to the world of journalism, particularly for the beginner. It contains step-by-step instructions on writing for the news media, and practical advice and suggestions on all facets of reporting. It covers the basic skills involved in finding information, interviewing, writing news and feature material, research and investigation, basic subbing, layout and design, the essentials of grammar, the law, and ethical and professional behaviour.

Mirror
Mirror
>>NO PASSWORD<<
>>NO MIRRORS<<
-<My Blog>-