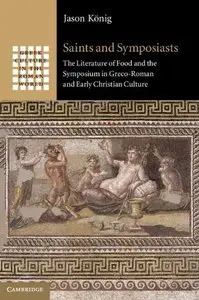 Saints and Symposiasts: The Literature of Food and the Symposium in Greco-Roman and Early Christian Culture (Greek Culture in the Roman World) by Dr Jason König
English | 2012 | ISBN: 0521886856 | ISBN-13: 9780521886857 | 430 pages | PDF | 5,2 MB
Greek traditions of writing about food and the symposium had a long and rich afterlife in the first to fifth centuries CE, in both Greco-Roman and early Christian culture. This book provides an account of the history of the table-talk tradition, derived from Plato's Symposium and other classical texts, focusing among other writers on Plutarch, Athenaeus, Methodius and Macrobius.
It also deals with the representation of transgressive, degraded, eccentric types of eating and drinking in Greco-Roman and early Christian prose narrative texts, focusing especially on the Letters of Alciphron, the Greek and Roman novels, especially Apuleius, the Apocryphal Acts of the Apostles and the early saints' lives. It argues that writing about consumption and conversation continued to matter: these works communicated distinctive ideas about how to talk and how to think, distinctive models of the relationship between past and present, distinctive and often destabilising visions of identity and holiness.