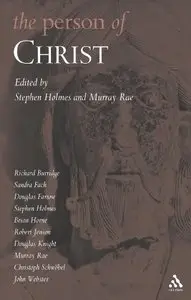 Murray Rae, Stephen R. Holmes, "The Person of Christ"
2005 | ISBN-10: 0567030245 | 212 pages | PDF | 3,7 MB
Understanding the Person of Christ affects our understanding of all Christian theology. All ten contributors to this volume share a commitment to the orthodox theological tradition in Christology as expressed in the creedal heritage of the Christian church, and seek to explicate the continuing coherence and importance of that theological tradition. The book's ten essays cover such topics as prolegomena to Christology, the incarnation, the person and nature of Christ, the communicatio idiomatum, the baptism of Christ, the redemptive work of Christ, the ascended Christ, and New Testament Christology, and offers critical engagements with such diverse theologians as John Calvin, Charles Williams and John Zizioulas. The contributors, all leading academics, include: John Webster, Richard Burridge, Robert Jenson, Stephen Holmes, Douglas Farrow, Brian Horne, Murray, Douglas Knight, Sandra Fach, Christoph Schwoebel.