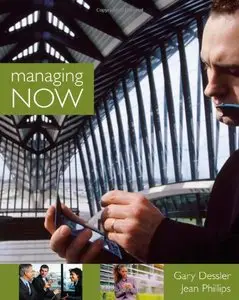 Gary Dessler, Jean M. Phillips, "Managing Now"
H..ton M,,flin C.mpany | 2008 | ISBN: 0618741631 | 562 pages | PDF | 10 MB
New for 2008, Managing Now! addresses how Internet and intranet based technologies are transforming how managers run companies. The text program highlights new skills future managers will need for planning, organizing, and managing inter-unit relations. Chapter objectives are introduced through the authors' unique behavioral learning model, Learn It, Practice It, and Apply It. Each objective is carried through these directives, providing a multi-step approach to learning that engages students and reinforces real-world application. Managing Now Includes a fully integrated technology program designed specifically for the text. Managing Now LIVE is an Internet based simulation that reinforces and reviews key topics from each chapter. Organized according to the three learning objectives outlined in the text, the simulation prompts students to consider chapter concepts through topic reviews, quizzes, case-based questions, and scenario-based videos. Simulation Icons in the text direct students to related Managing Now LIVE content available online.
Download