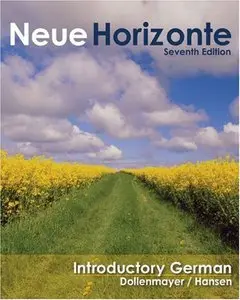 David Dollenmayer, Thomas Hansen, "Neue Horizonte: Introductory German, 7 edition"
H.inle | 2008 | ISBN: 0618954791 | 512 pages | PDF | 40,5 MB
Neue Horizonte skillfully instills both communicative and grammatical competency using a diversified methodology that adapts well to a variety of teaching and learning styles. Its integrated treatment, stressing a balance of communicative competence, cultural awareness, and mastery of language structures, immerses students in a complete language-learning experience. In the new Seventh Edition, this proven philosophy is enhanced by the iLrn Heinle Learning Center. Everything your students need to master the skills and concepts of the course is built into this dynamic learning environment. The iLrn Heinle Learning Center is available at an additional cost and includes an audio-enhanced eBook, assignable textbook activities, partnered voice-recorded activities, an online workbook and lab manual with audio, interactive enrichment activities, and a diagnostic study tool to help them prepare for exams.
Download