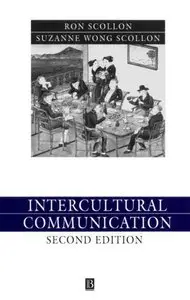 Ron Scollor, Suzanne Wong Scollon, "Intercultural Communication: A Discourse Approach"
W ey-Bl kwell | 2000 | ISBN: 0631224173 | 336 pages | PDF | 1,8 MB
This newly revised volume is both a lively introduction and practical guide to the main concepts and problems of intercultural communication. Viewed from within the framework of interactive sociolinguistics associated with Tannen, Gumperz, and others, the authors focus in particular on the discourse of westerners and of Asians, the discourse of men and women, corporate discourse and the discourse of professional organizations, and intergenerational discourse.
Views intercultural communication from within the framework of interactive sociolinguistics, with an emphasis on discourse analysis
Numerous examples demonstrate the relationship between culture and communication
Outlines the methodology of ethnography, and shows how it is used for new research in intercultural communication
Illustrates the value of ethnographic research for conducting training and consultation programs.
Download