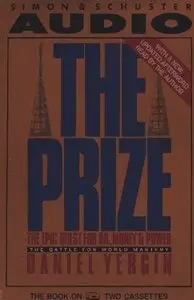 Daniel Yergin, "Prize: the Epic Quest for Oil, Money & Power:the Battle for World Mastery"
Audioworks; Abridged edition | ISBN: 0671747665 | 1991 | PDF | 945 pages | 19,16 mb
This book explains how oil affects our lives, our nation, the world's economy and political situations. Yergin's writing style is superb, and although the material is somewhat dry, he really brings events to life. This work is rare for non-fiction - it is easy reading and informative.
Note 1
: If you can not open the downloaded file, and your Adobe Reader reports on the damaged file, then
update
your Adobe Reader. Lastest version of Adobe Reader opens this book perfectly.
Note 2
: Links not work? Send me
PM
and I'll try to help you.