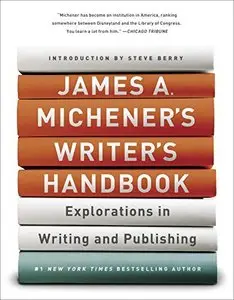 James A. Michener's Writer's Handbook: Explorations in Writing and Publishing by James A. Michener
2015 | ISBN: 0679741267 | English | 208 pages | EPUB | 135 MB
Pulitzer Prize–winning author James A. Michener has written about everything from the pristine islands of the South Pacific and the endless wilds of Africa to Spanish bullfighters, American revolutionaries, and pirates of the Caribbean. Now Michener turns to his favorite and most personal subject: the written word. Reproducing pages from his own handwritten rough drafts and working manuscripts, Michener walks the reader through a step-by-step guide to the entire process of writing, editing, revising, and publishing. Addressing challenges specific to both fiction and nonfiction, all the while providing thoughtful and useful solutions, James A. Michener's Writer's Handbook is an invaluable resource for book lovers, editors, and, of course, writers—aspiring and accomplished alike.
Praise for James A. Michener
"A master storyteller . . . Michener, by any standards, is a phenomenon."—The Wall Street Journal
"Sentence for sentence, writing's fastest attention grabber."—The New York Times
"Michener has become an institution in America, ranking somewhere between Disneyland and the Library of Congress. You learn a lot from him."—Chicago Tribune
"While he fascinates and engrosses, Michener also educates."—Los Angeles Times