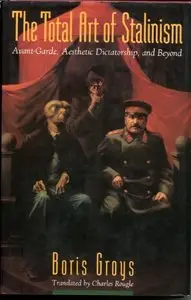 Boris Groys, "The Total Art of Stalinism: Avant-Garde, Aesthetic Dictatorship, and Beyond"
Pri eton Univ rsity Pr ess | 1992 | ISBN: 0691055963 | 140 pages | PDF | 20 MB
As communism collapses into ruins, Boris Groys provokes our interest in the aesthetic goals pursued with such catastrophic consequences by its founders. Interpreting totalitarian art and literature in the context of cultural history, this brilliant essay likens totalitarian aims to the modernists' demands that art should move from depicting to transforming the world. The revolutionaries of October 1917 promised to create a society that was not only more just and more economically stable but also more beautiful, and they intended that the entire life of the nation be completely subordinate to Communist party leaders commissioned to regulate, harmonize, and create a single "artistic" whole out of even the most minute details. What were the origins of this idea? And what were its artistic and literary ramifications? In addressing these issues, Groys questions the view that socialist realism was an "art for the masses." Groys argues instead that the "total art" proposed by Stalin and his followers was formulated by well-educated elites who had assimilated the experience of the avant-garde and been brought to socialist realism by the future-oriented logic of avant-garde thinking. After explaining the internal evolution of Stalinist art, Groys shows how socialist realism gradually disintegrated after Stalin's death. In an undecided and insecure Soviet culture, artists focused on restoring historical continuity or practicing "sots art," a term derived from the combined names of socialist realism (sotsrealizm) and pop art. Increasingly popular in the West, sots-artists incorporate the Stalin myth into world mythology and demonstrate its similarity to supposedly opposing myths.
Download