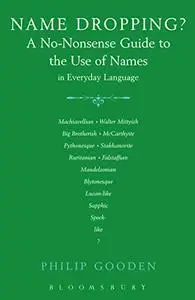 Author, "Name Dropping? : A No-Nonsense Guide to the Use of Names in Everyday Language"
2006 | pages: 225 | ISBN: 0713675888 | PDF | 1,6 mb
What exactly are expressions such as Kafkaesque or Orwellian or Miranda-like trying to pin down? Philip Gooden's engrossing A-Z goes where dictionaries usually fear to tread and offers full explanations of terms derived from proper names. As well as describing the original owner of the name - real or fictional - and what it has come to mean, the book provides examples of its use in the press and other media and a pretentiousness rating, lest you get carried away.
My Link