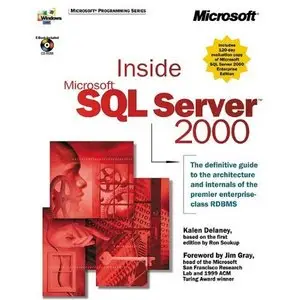 Inside Microsoft SQL Server 2000
Publisher: Microsoft Press | ISBN: 0735609985 | edition 2000 | PDF | 1088 pages | 16,1 mb
This newly updated, official guide to the core architecture and internals of Microsoft SQL Server 2000 helps readers unlock the full power of Microsoft's premier relational database management system. Written by a renowned SQL Server guru, in conjunction with the Microsoft SQL Server 2000 product development team, INSIDE MICROSOFT SQL SERVER 2000 is a must-read for developers and IT professionals who need to understand Microsoft SQL Server from the inside out. This comprehensive guide provides updated, authoritative advice for installing, administering, and programming with SQL Server 2000. It also includes information about significant product enhancements, and new chapters about SQL Server Indexes and Query Optimization.