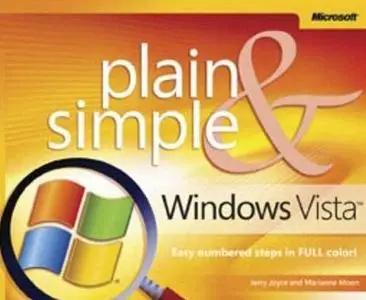 Windows Vista(TM) Plain & Simple (Bpg-Plain & Simple) by Jerry Joyce (Author), Marianne Moon (Author)
Publisher: Microsoft Press (January 17, 2007) | ISBN-10: 073562268X | CHM | 40,6 Mb | 352 pages
Get the fast answersin full colorthat make learning the new Windows Vista operating system plain and simple! Windows Vista helps you more effectively use your PCwith simple ways to find and use your information, enjoy your digital media, and connect to technologies and people. This no-nonsense guide helps you learn the easy way to navigate this new operating system with numbered steps and concise, straightforward language that show the most expedient ways to learn a new skill or solve a problem. Youll discover how to perform everyday tasks and answer your own questions quicklylearning the essentials for customizing your desktop, setting up a home network, managing digital media, publishing files to the Web, and more. With Plain & Simple, you dont have to wade through superfluous details.