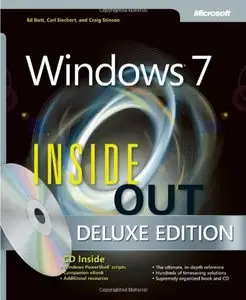 Windows 7 Inside Out, Deluxe Edition By Ed Bott, Carl Siechert, Craig Stinson
Publisher: Mi.cro..soft Pre..ss 2011 | 136 Pages | ISBN: 0735656924 | EPUB + PDF + MOBI | 25 MB + 48 MB + 54 MB
Dive deeper into Windows 7—with new content! The Deluxe Edition of the ultimate, in-depth reference to Windows 7 has been fully updated for SP1 and Internet Explorer 9, and features 300+ pages of additional coverage and advanced topics. It's now packed with even more timesaving solutions, troubleshooting tips, and workarounds from the experts.
!!!No Mirrors below, please! Follow Rules!