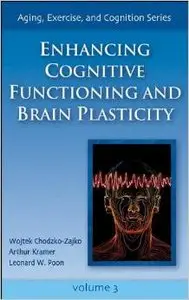 Enhancing Cognitive Functioning and Brain Plasticity (Aging, Exercise and Cognition, Book 3) by Wojtek Chodzko-Zajko, Arthur Kramer and Leonard Poon
English | 2009 | ISBN: 0736057919 | 248 pages | PDF | 2 MB
Enhancing Cognitive Functioning and Brain Plasticity offers a synergistic view of the complex role of exercise, physical activity, and intellectual stimulation in the cognitive and brain functioning of older adults.
Using the research and implications suggested by the text's contributors, each an expert in his or her respective field, readers will deepen current knowledge and expand their perspectives regarding the influence of exercise and physical activity on the aging brain.
As the final text of the three-volume Aging, Exercise, and Cognition series, Enhancing Cognitive Functioning and Brain Plasticity examines exercise and nonexercise interventions shown to influence cognition and brain plasticity in elderly humans and older animals. The most current research is presented in nine chapters, each with a concluding section to summarize important information and suggest avenues for further study. The text also discusses how state-of-the-art neuroimaging measures, including event-related brain potentials, positron emission tomography, and functional magnetic resonance imaging, are used in the study of individual differences in cognition and brain functioning.
Readers interested in the effects of environment on the psychosocial functioning of older adults will find compelling evidence regarding the positive influence of cognitive training and intellectual engagement. The book also discusses the effects of exercise on the reduction of age-related declines in both context-specific skills and broader processes and abilities. Data on the influence of both controlled laboratory interventions and more realistic lifestyle interventions provide a complete look at how to enhance cognitive performance and preserve cognitive function in older adults.
With directions for further research suggested throughout the text, Enhancing Cognitive Functioning and Brain Plasticity provides an excellent framework for continued study of aging from psychological and neuroscientific perspectives. The review of literature regarding the effects of exercise on neurocognitive functioning across the life span and presentation of the effects of exercise on performance, learning, and memory add to mounting evidence supporting the role of exercise and physical activity as protective measures against cognitive loss during aging. The text concludes with a thoughtful discussion of when and how the relationship between exercise and physical activity interventions and cognitive improvement could be translated into specific public health recommendations.
Featuring the latest research from leading experts compiled into one complete volume, Enhancing Cognitive Functioning and Brain Plasticity shows that a physically active lifestyle contributes significantly to the cognitive functioning of the aging brain.
Human Kinetics' Aging, Exercise, and Cognition series presents advanced research and key issues for understanding and researching the links between exercise, aging, and cognition. The three volumes in this series are essential references for cognitive gerontologists, medical and health science researchers, exercise science researchers and professionals, and public health administrators interested in scientific evidence demonstrating the beneficial effects of regular physical activity on cognitive functioning and general health during aging.