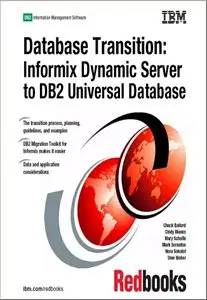 IBM Redbooks,"Database Transition Informix Dynamic Server to DB2 Universal Database"
Publisher: Ibm | ISBN: 0738490989 | edition March 30, 2005 | PDF | 602 pages | 10.1 mb
Concurrency control is the activity of coordinating the actions of processes that operate in parallel, access shared data, and therefore potentially interfere with each other. Recovery is the activity of ensuring that software and hardware failures do not corrupt persistent data. Concurrency control and recovery problems arise in the design of hardware, operating systems, real time systems, communications systems, and database systems, among others. In this book, we will explore concurrency control and recovery problems in database systems.