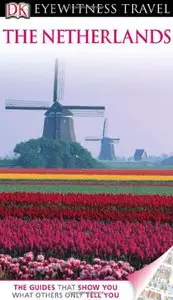 DK Publishing, Kim Renfrew, "DK Eyewitness Travel Guide: Netherlands"
DK Travel | 2011 | ISBN: 0756670241 | 480 pages | PDF | 58 MB
This beautifully illustrated, updated, and expanded Eyewitness Travel Guide shows The Netherlands as the land of contrasts that it is. It boasts the Frisian Islands in the north to Zeeland in the south, as well as fine sandy beaches, picturesque villages, and vibrant towns. Amsterdam is one of Europe's great cities of art, and the 3D aerial views are the perfect guide to exploring Amsterdam's canals and squares. Also included are cutaways and floor plans that will ensure that you don't miss anything in the major museums and churches.
The guide also provides a wide selection of restaurants, shops, and nightlife venues, as well as sights, festivals and markets listed town by town. Whether your interests lie in cycling the remarkably flat countryside, seeing Delft porcelain being made, or visiting the tulip fields or flower markets, this guide will help you to get the most out of your trip to The Netherlands.
Don't miss a thing on your vacation with the DK Eyewitness Travel guidebook to The Netherlands.
HIGHLIGHTS INCLUDE:
Packed with photographs, illustrations, and maps
Cutaways and floor plans of all the major sights
3D aerial views of the city's most interesting districts
Huge selection of hotels, restaurants, stores, and entertainment venues
Specially devised walking tours, special events info
Download