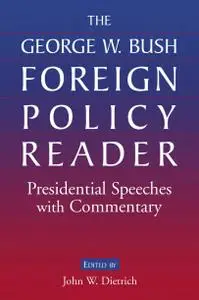 The George W. Bush Foreign Policy Reader: Presidential Speeches with Commentary edited by John W. Dietrich
English | March 31, 2005 | ISBN: 0765615568, 0765615576 | PDF | 320 pages | 16 MB
An outstanding guide to both the pre-and post-9/11 Bush administration thinking on international security. The speeches included in this volume provide a comprehensive chart of the revolutionary course of Bush foreign policy. Most importantly, each chapter includes a superb introduction that could stand on its own as a balanced and thoughtful narrative of the developments in U.S. national security policy for the 21st century.
The editor's analyses elevate this book above and beyond the scope of a typical edited reader; it stands as an invaluable resource that examines the debates on Bush foreign policies while providing a documentary record of those policies. I recommend it as a reference and as assigned reading for courses on contemporary U.S. foreign and national security policy.