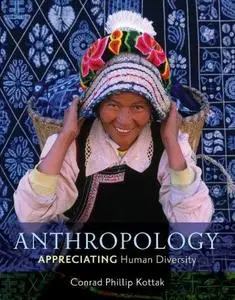 Anthropology: Appreciating Human Diversity (14th Edition) By Conrad Kottak
2010 | 721 Pages | ISBN: 0078116996 | PDF | 98 MB
Focused on the appreciation of anthropology, the new edition of Anthropology: Appreciating Human Diversity offers an up-to-date holistic introduction to general anthropology from the four-field perspective. Key themes of appreciating the experiences students bring to the classroom, appreciating human diversity, and appreciating the field of anthropology are showcased throughout the text. In this edition, Understanding Ourselves chapter openers and Through the Eyes of Others boxes show how anthropology helps us understand ourselves. New Appreciating Diversity boxes focus on the various forms of human biological and cultural diversity. Appreciating Anthropology boxes are also new to the text and focus on the value and usefulness of anthropological research and approaches.