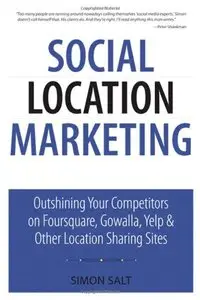 Social Location Marketing: Outshining Your Competitors on Foursquare, Gowalla, Yelp & Other Location Sharing Sites By Simon Salt
Publisher: Q.u.e 2011 | 240 Pages | ISBN: 0789747219 | PDF | 7 MB
Social Location Marketing offers powerful new ways to promote practically any product, service, or venue. Now, pioneering expert Simon Salt shows exactly how to make the most of it! Salt introduces Foursquare, Gowalla, Yelp, and other apps, helping you choose your best options, and build cost-effective marketing programs that work. Through real examples, you'll learn how to reach your key audiences and segments…craft and execute winning strategies on realistic budgets…measure activity and calculate ROI…avoid costly mistakes…and much more! Whatever your goal, role, or industry, this book will help you find new customers where they are, strengthen loyalty and retention, and supercharge profits!
!!!No Mirrors below, please! Follow Rules!