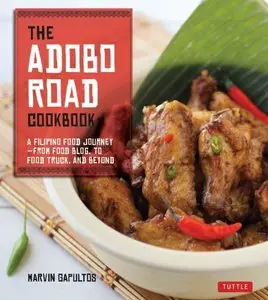 The Adobo Road Cookbook: A Filipino Food Journey-From Food Blog, to Food Truck, and Beyond by Marvin Gapultos
English | 2013 | ISBN: 0804842574 | 144 pages | PDF + EPUB | 9,9 + 12,5 MB
The road to great Filipino food begins and ends at home. But the journey along the way introduces a combination of flavors and textures from around the world. In The Adobo Road Cookbook, Marvin Gapultos demonstrates that delicious Filipino food can be prepared anywhere–from Manila to Los Angeles and everywhere in between.
As a food blogger-turned-gourmet food trucker, Marvin interprets traditional Filipino flavors with equal parts kitchen savvy and street smarts–providing easy-to-follow, tried and true recipes that serve as a guide to the pleasures of Filipino cooking. The nearly 100 recipes in these pages pave a culinary road trip that transports home cooks to the roadside food stalls, bars and home kitchens of the Philippines, to the hungry streets of L.A., and even into the sage kitchen's of Marvin's own grandmother, mother and aunties.


A highly personal take on traditional Filipino cooking, The Adobo Road Cookbook boasts a tantalizing mix of native Filipino flavors, as well as influences from Spain, Mexico, China, and the U.S. From chapters featuring surefire entertaining foods like Filipino bar food, street food and cocktails, to a complete section of adobo recipes–both traditional and with a twist–the recipes found in The Adobo Road Cookbook express Marvin's unique approach to cooking. All of his recipes emphasize their authentic Filipino roots, taking advantage of traditional island flavors for which the Philippines is rightly renowned.
Recipes include:
Slow-Braised Pork Belly and Pineapple Adobo
Spicy Sizzling Pork (Sisig)
Salmon and Miso Sour Soup (Sinigang)
Chili Crab Spring Rolls (Lumpia)
Coconut Milk Risotto with Kabocha Squash and Long Beans
Chicken Adobo Pot Pies
Sweet Corn and Coconut Milk Panna Cotta
Gin Fizz Tropical
Banana-Nut Spring Rolls
My nickname -
interes