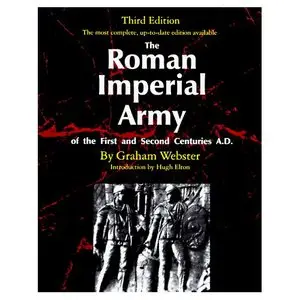 The Roman Imperial Army: Of the First and Second Centuries A.D.
Publisher: University of Oklahoma Press | ISBN: 0806130008 | edition 1998 | CHM | 343 pages | 4,6 mb
Webster's book is considered a leading source on the topic, and it should be noted that it is not for beginners. That said, it ought also be noted that it is not for the advanced student, either: those of us who have studied the Roman army in some detail will not find many new takes on the sources we have, except for a very interesting discussion of the Etruscan influence on Roman warfare, which I personally enjoyed a lot. As it stands, this book is a definite middle ground: excellent in its own right, but not adequately targeted to either audience. For a student of the Classics who has some background with Roman history this book will indeed be invaluable, but for graduate students and professionals it does not contribute anything radically new, no matter how elegant and stimulating as Webster's treatment may be.