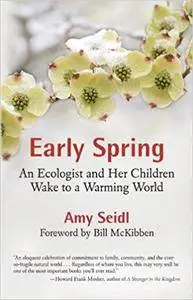 Amy Seidl, Bill McKibben, "Early Spring: An Ecologist and Her Children Wake to a Warming World"
English | 2009 | ISBN: 0807085847 | PDF | pages: 193 | 0.5 mb
The human heart is the most sensitive instrument, and that is why Amy Seidl's marvelous book is so important, a new kind of contribution to the rapidly growing library on global warming.—Bill McKibben, from the foreword
Robert Frost wrote about nature and rural life in New England, and Norman Rockwell painted classic scenes of farmhouses and American traditional life, images reproduced as symbolizing an idealized history born of New England sights. But New England, a region whose culture is rooted in its four distinct seasons, is changing along with its climate.
In Early Spring, ecologist and mother Amy Seidl examines climate change at a personal level through her own family's walks in the woods, work in their garden, and observations of local wildlife in the quintessential America of small-town New England, deep in the Green Mountains of Vermont.
Seidl's testimony, grounded in the science of ecology and evolutionary biology but written with beauty and emotion, helps us realize that a natural upheaval from climate change has already begun: spring flowers blossom before pollinators arrive, ponds no longer freeze, and animals begin migrations at unexpected times. Increasingly, the media report on melting ice caps and drowning polar bears, but Seidl brings the message of global warming much closer to home by considering how climate change has altered her local experience, and the traditions and lifestyles of her neighbors, from syrup producers to apple farmers. In Vermont, she finds residents using nineteenth-century practices to deal with perhaps the most destructive twenty-first-century phenomenon.
Seidl's poignant writing and scientific observations will cause readers to look at their local climate anew, and consider how they and their neighbors have adjusted to the reality of global warming.