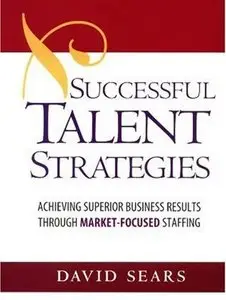 David Sears, "Successful Talent Strategies: Achieving Superior Business Results Through Market-Focused Staffing"
AMA COM | 2002 | ISBN: 0814407463 | Pages: 256 | PDF | 2 MB
Like product and service markets, employment markets go up and down, but they never stand still. For any staffing strategy to be effective, it must be responsive to changes both within and outside the organization. Consequently, such initiatives must be designed with the same forethought, care, and commitment that go into other business strategies.
Successful Talent Strategies provides a blueprint for talent planning in an economy where skillfully deployed human capital is the difference between unbridled success and struggling to stay afloat. Step by step, the book illustrates the process of creating a business-aligned talent system, with detailed strategies for:
* Aligning initiatives with department processes, corporate objectives, and market realities * Identifying necessary competencies and attributes * Establishing talent flow and talent engagement processes, including sourcing and retention methods, performance management, and reward systems * Measuring and improving talent strategy results, and more
Featuring many examples from companies of all types and sizes, Successful Talent Strategies can help any business find and keep top talent in any conditions.
Download