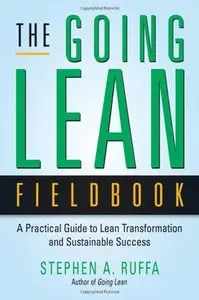 Stephen A. Ruffa, "The Going Lean Fieldbook: A Practical Guide to Lean Transformation and Sustainable Success"
AM COM | 2010 | ISBN: 081441558X | 224 pages | PDF | 1,4 MB
In Going Lean, author Stephen A. Ruffa introduced the groundbreaking principles of Lean Dynamics, revealing how leading companies go beyond chasing the most visible outcomes of lean to address the disconnects that cause operational waste to accumulate. Illustrated by compelling cases and clear examples, The Going Lean Fieldbook provides a logical structure and practical advice for applying lean principles throughout the organization.
Useful as a stand-alone implementation guide and as a training resource, the book maps out a set path toward reaching a series of critical transformation levels, detailing the activities and the hazards that can derail the journey at each point along the way. Readers will learn how to promote stability, consistency, and innovation by first conducting a "dynamic value assessment" and attaining the buy-in that is critical to making business improvements work.
Based on lessons of real-life firms from different industries that have successfully implemented lean methods, this is an in-the-trenches manual for anyone who wants to energize their organization.
Download