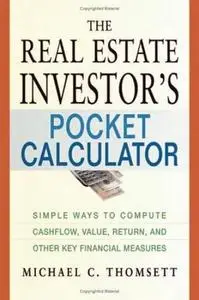 Michael C. Thomsett, «The Real Estate Investor's Pocket Calculator: Simple Ways to Compute Cashflow, Value, Return, and Other Key Financial Measurements»
AMACOM | ISBN 0814472966 | November 30, 2005 | PDF | 1 Mb | 263 Pages
Book Description:

From the first moment an investor begins to consider a piece of real estate, he is faced with an almost unending series of calculations – and his success is dependent on his ability to know which ones to use and to perform them correctly.

The Real Estate Investor's Pocket Calculator helps readers make smarter decisions and avoid risk by giving them all the guidelines and formulas they need to analyze an investment property, such as:
* return on investment
* yield
* valuation
* cashflow
* monthly breakdown schedules
* time value of money
* taxable income
* capitalization rates
* operating expense ratio
* adjusted basis
* land measurements
* and much more

In addition, readers will learn valuable acceleration techniques, methods for reducing interest, and other ways to maximize return on their investment. A comprehensive guide for appraisers, real estate agents, and brokers, as well as for investors, The Real Estate Investor's Pocket Calculator is an invaluable reference for anyone who needs to understand the numbers behind real estate.




About the Author

Michael C. Thomsett (Port Townsend, WA) is a financial writer with hundreds of articles to his credit. He is the author of The Landlord's Financial Tool Kit, Getting Started in Real Estate Investing, J.K. Lasser's Real Estate Investing, and more.