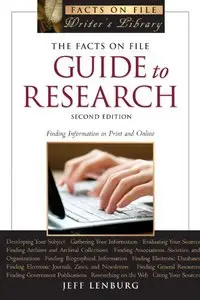 Jeff Lenburg, "The Facts on File Guide to Research, 2nd Edition"
Ch.ckmark Books | 2010 | ISBN: 0816081220 | 720 pages | PDF | 5,1 MB
The Guide to Research, Second Edition is the most comprehensive guide available to conducting thorough and accurate research. It includes detailed lists of thousands of resources and explains general research methods and proper citation of sources. This expanded and updated edition contains new information on Internet research, including up-to-date discussions of Google and other search engines, subject-specific keyword search strategies, a cautionary note about Wikipedia, and much more.
The volume is divided into four easy-to-use sections:
– Researching Your Topic contains a step-by-step guide to the research process, with information on developing a subject and planning research, gathering information, and evaluating sources
– Finding Sources of Information explains how to find, access, and use a number of different sources, from archival collections and biographical indexes to government agencies, newspapers, and magazines, from online and electronic services to radio and television, and many more
– Finding Sources by Subject contains detailed lists of credible research sources categorized by subject matter
– Using Your Sources explains how to cite sources, avoid plagiarism, and create a bibliography.
The Guide to Research, Second Edition helps students and general readers prepare for research papers and class studies. Valuable appendixes cover style guides, including APA, MLA, and The Chicago Manual of Style.
Download