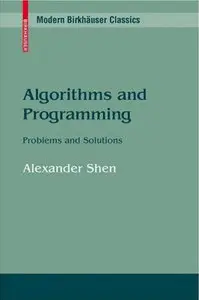 Algorithms and Programming: Problems and Solutions
Publisher: Birkhäuser Boston | ISBN: 0817647600 | edition 2008 | PDF | 218 pages | 11,4 mb
Algorithms and Programming is primarily intended for a first-year undergraduate course in programming. It is structured in a problem-solution format that requires the student to think through the programming process, thus developing an understanding of the underlying theory. Although the author assumes some moderate familiarity with programming constructs, the book is easily readable by a student taking a basic introductory course in computer science. In addition, the more advanced chapters make the book useful for a course at the graduate level in the analysis of algorithms and/or compiler construction.