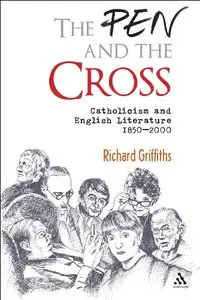 Richard Griffiths, "The Pen and the Cross: Catholicism and English Literature, 1850-2000"
2010 | ISBN-10: 0826496970 | 272 pages | PDF | 1,8 MB
This incisive and perceptive new book concerns 'Catholic Literature' in Britain since 1850. To many people, Roman Catholicism is culturally foreign and 'other'. And yet some of the most outstanding writers of recent times have been Catholics - often converts, such as Evelyn Waugh, Graham Greene, Muriel Spark and David Jones. In every case these authors' Catholicism was integral to their creative genius and they represent an important strand in any account of English literature. Professor Griffiths' account is set against a wide and varied canvas. It gives a full account of the growth of Catholicism as a cultural, social and political force in Great Britain since Newman. Griffiths is concerned also to relate his story to movements on the continent and examines on his way the impact of French Catholic writers such as Huysmans, Peguy and Mauriac on their British counterparts and the influence of British Catholic writers such as Newman, Faber and Chesterton on Europe.