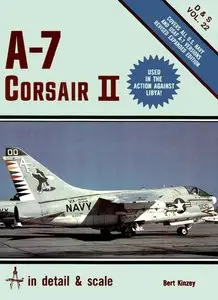 A-7 Corsair II. Covers All U.S. Navy and USAF A-7 Versions (Detail & Scale 22) By Bert Kinzey
Publisher: TAB books; Pevised expanded edition 1986 | 77 Pages | ISBN: 0853688273 | PDF | 16 MB
"A giant step forward in weapon's delivery capability, and a giant step backward in speed capability!" That's how one A-7 pilot of the Virginia Air National Guard described the A-7 after his unit had transitioned from the F-105 into the A-7D. Certainly Vought's A-7 Corsair II is not the sleek, fast, awe-inspiring fighter that catches one's attention the way an F-14 Tomcat or F-15 Eagle would, but it has done the job it was designed for. and has done it better than just about any other aircraft in modern military history. It did not take years to develop, having a very short time from design approval to first flight. It was then only two years from first flight to combat, and in combat it served remarkably well, sustaining a combat loss rate far below any of the faster fighters that performed tho same missions. This success in combat must be attributed to its sophistica­tion—its avionics and ECM equipment, than to speed and power. Despite its presont ago. the A-7 remains today second only to the even older A-6 Intruder when it comes to sophistication in the form of an attack fighter.
NO PASSWORD



!!!No Mirrors below, please! Follow Rules!