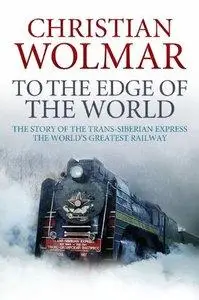 Christian Wolmar, "To the Edge of the World: The Story of the Trans-Siberian Railway"
2013 | ISBN: 0857890379 | English | 304 pages | EPUB + MOBI | 12 MB
It is the world's longest railway line. But it is so much more than that, too. The Trans-Siberian stretches nearly 6,000 miles between Moscow and Vladivostok on the Pacific Coast and was the most ambitious railway project in the nineteenth century. A journey on the railway evokes a romantic roam through the Russian steppes, but also reminds travellers of the vastness of our world and hints at the hardships that were endured in its construction.
Christian Wolmar expertly tells the story of the Trans-Siberian railway from its conception and construction under Tsar Alexander III, to the northern extension ordered by Brezhnev and its current success as a vital artery. He also explores the crucial role the line played in both the Russian Civil War -Trotsky famously used an armoured carriage as his command post - and the Second World War, during which the railway saved the country from certain defeat. Like the author's previous railway histories, it focuses on the personalities, as well as the political and economic events, that lay behind one of the most extraordinary engineering triumphs of the nineteenth century.