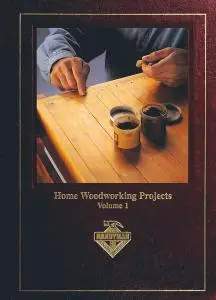 Home Woodworking Projects, Volume 1
Mike Vail | 1997 | ISBN: 086573660X | 163 pages | PDF | 105 MB
You have been shopping for a particular home furnishing and just can't seem to find what you want, or you have found it but it is poorly made and overpriced. Why deal with these frustrations when you can have beautiful and well-made furnishings that exactly meet your needs—and save you money, too? In Home Woodworking Projects, Volume 1 you'll find a showcase of projects that will help you create a more attractive, functional and satisfying home environment.
Using just a few simple tools, you can build a pine futon frame the whole family can snuggle into; a poker table for evenings full of congenial competition; a desk, table and chairs, and picnic table sized to fit your childrens' needs—as well as a delightful play-house; an oak stepladder for reaching top shelves in your den; a writing desk, drafting stool and secretary topper that can be made individually or as a set; and many other furnishings to give rooms in your home personal charm and functional appeal.