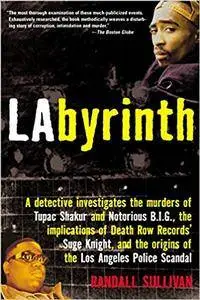 Randall Sullivan, "Labyrinth: A Detective Investigates the Murders of Tupac Shakur and Notorious B.I.G., the Implication of Death Row Records' Suge Knight, and the Origins of the Los Angeles Police Scandal"
ISBN: 0871138387, 0802127428 | 2002 | EPUB | 352 pages | 2 MB
Acclaimed journalist Randall Sullivan follows Russell Poole, a highly decorated LAPD detective who in 1997 was called to investigate a controversial cop-on-cop shooting, eventually to discover that the officer killed was tied to Marion "Suge" Knight's notorious gangsta rap label, Death Row Records. During his investigation, Poole came to realize that a growing cadre of black officers were allied not only with Death Row, but with the murderous Bloods street gang. And incredibly, Poole began to uncover evidence that at least some of these "gangsta cops" may have been involved in the murders of rap superstars Notorious B.I.G. and Tupac Shakur.
Igniting a firestorm of controversy in the music industry and the Los Angeles media, the hardcover publication of LAbyrinth helped to prompt two lawsuits against the LAPD (one brought by the widow and mother of Notorious B.I.G., the other brought by Poole himself) that may finally bring this story completely out of the shadows.