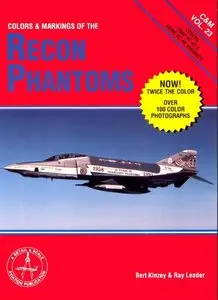 Colors and Markings of the Recon Phantoms in Detail & Scale: Covers Usaf Rf-4C & Usmc Rf-4B Variants (Colors and Markings 23) By Bert Kinzey, Ray Leader
Publisher: Kalmbach K Books 1994 | 66 Pages | ISBN: 0890242216 | PDF | 12 MB
For over a quarter of a century, the F-4 Phantom served as a front line fighter for the U. S. Navy, Marines, and Air Force. Other Phantoms were exported to foreign nations or built under license in Asia and Europe. As a result, the F-4 became one of the most widely used and popular combat aircraft in aviation history. It was consid­ered by many to be the premier fighter of its day, and it served admirably in combat. From Vietnam to Desert Storm, Phantoms flew almost every conceivable mission a fighter could perform. But ironically it was the RF-4B and RF-4C reconnaissance variants which remained operational with the Marines and Air Force longer than any of the eight major fighter variants used by these services. This book is the most extensive reference ever published which covers the paint schemes and markings used on these reconnaissance Phantoms.
NO PASSWORD



!!!No Mirrors below, please! Follow Rules!