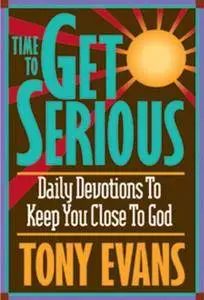 Time To Get Serious: Daily Devotions to Keep You Close to God by Tony Evans
English | 1995 | ISBN: 0891078665, 1581349513, 9780891078661, 9781581349511, B001E50PFK | 352 Pages | PDF | 1.21 MB
"If God is the all-consuming, all-powerful, all-knowing, loving and infinite Creator, Sustainer, and Redeemer of this universe, then nothing else we can do matters quite as much as getting to know Him and know Him well!" C'mon now! Enough of spoon-fed spirituality and Sunday-morning religion that lasts until church lets out. It's time to get serious–to get deep into God's Word and start exploring your most important relationship for yourself. You won't have to do it by yourself, though. Author Tony Evans, one of America's most passionate and insightful preachers, will join you every day to explore the great news of who God is–and who you are in Him–through the lively daily devotionals in this book. Covering a different topic every four weeks, Evans speaks to all Christians–men, women, singles, couples and parents–about the essentials for a growing faith. And about your greatest pursuit in life: getting to know God–and know Him well. Drawing deeply from Scripture, Evans focuses on the most important aspects of the faith–such as the attributes of God, discipleship, prayer, the role of the Holy Spirit–and, in his direct, refreshing, down-to-earth style, shows how developing your knowledge of God affects everything about you. Your marriage. Your family life. Your friendships. Your purity and integrity. Your view of money and possessions. And your commitment to helping heal society's ills. So c'mon! Get serious! And get to know your Creator in a way that really matters. In a way that will change how you view your faith, yourself, your world–and Him.