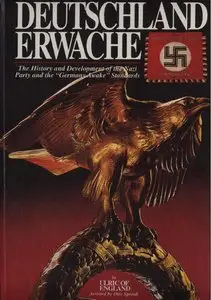 Deutschland Erwache. The History and Development of the Nazi Party and the "Germany Awake" Standards By Ulric of England
Publisher: R. James Bender Publishing 1997 | 512 Pages | ISBN: 0912138696 | PDF | 83 MB
During the Third Reich Period and forward to the present time no item has become such a statement and symbol of Adolf Hitler's National Socialist state than the "DEUTSCHLAND ERWACHE" Standard. Yet, strangely enough virtually no information has been available to the collector or researcher detailing the various types, quantities, and other facts relating to them. Even worse, very limited information has been available and much of it has been blatantly incorrect. To further exasperate this problem, very few origi­nal "DEUTSCHLAND ERWACHE" Standards or parts have surfaced in the post-war years which has meant that collectors and researchers have been unable to compare one against another.
NO PASSWORD



!!!No Mirrors below, please! Follow Rules!