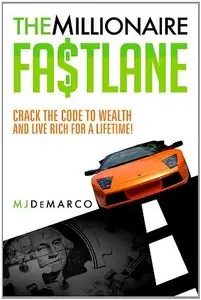 The Millionaire Fastlane: Crack the Code to Wealth and Live Rich for a Lifetime By MJ DeMarco
Publisher: Vipe,rion Publi.shing 2011 | 336 Pages | ISBN: 0984358102 | PDF | 3 MB
Drive the Slowlane road and you will find your life deteriorate into a miserable exhibition about what you cannot do, versus what you can. For those who don't want a lifetime subscription to "settle-for-less" and a slight chance of elderly riches, there is an alternative; an expressway to extraordinary wealth that can burn a trail to financial independence faster than any road out there. Demand the Fastlane, an alternative road-to-wealth; one that actually ignites dreams and creates millionaires young, not old. Change lanes and find your explosive wealth accelerator. Hit the Fastlane, crack the code to wealth, and find out how to live rich for a lifetime.
!!!No Mirrors below, please! Follow Rules!