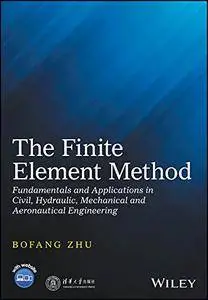 Bofang Zhu, "The Finite Element Method: Fundamentals and Applications in Civil, Hydraulic, Mechanical and Aeronautical Engineering"
English | ISBN: 1119107318 | 2018 | 872 pages | PDF | 25 MB
A comprehensive review of the Finite Element Method (FEM), this book provides the fundamentals together with a wide range of applications in civil, mechanical and aeronautical engineering. It addresses both the theoretical and numerical implementation aspects of the FEM, providing examples in several important topics such as solid mechanics, fluid mechanics and heat transfer, appealing to a wide range of engineering disciplines. Written by a renowned author and academician with the Chinese Academy of Engineering, The Finite Element Method would appeal to researchers looking to understand how the fundamentals of the FEM can be applied in other disciplines. Researchers and graduate students studying hydraulic, mechanical and civil engineering will find it a practical reference text.