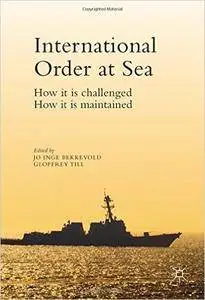 Jo Inge Bekkevold and Geoffrey Till, "International Order at Sea: How it is challenged. How it is maintained"
English | ISBN: 1137586621 | 2016 | 340 pages | PDF | 6 MB
This book examines how international order at sea is challenged, changed and maintained. The book surveys challenges to the international order at sea in the Asia-Pacific, the Indian Ocean Region, the Atlantic Ocean and the Arctic Ocean. It explores the interaction between and cooperation among leading, emerging and smaller naval powers, both naval and coastguard responses, required for the maintenance of good order at sea. Six broad and interlinked issues are identified that will influence the future international order at sea: the balance between the maritime and the continental domains; the balance between great power rivalry and cooperation; the contest between access and denial; the operational balance between preparing; building and training for warfighting as opposed to operations other than war; how to manage 'disorder' security challenges that very often transcends territorial waters and national boundaries, and finally, the balance between safeguarding national interests and contributing to collective efforts preserving the international order at sea.