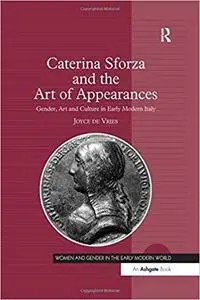 Caterina Sforza and the Art of Appearances: Gender, Art and Culture in Early Modern Italy by Joyce de Vries
English | ISBN: 0754667510, 1138254126 | 322 pages | EPUB | May 28, 2010 | 9.87 Mb
In the first major book in four decades on Caterina Sforza (1463-1509), Joyce de Vries investigates the famous noblewoman's cultural endeavors, and explores the ways in which gender, culture, and consumption practices were central to the invention of the self in early modern Italy. Sforza commissioned elaborate artistic and architectural works, participated in splendid civic and religious rituals, and collected a dazzling array of clothing, jewelry, and household goods. By engaging in these realms of cultural production, de Vries suggests, Sforza manipulated masculine and feminine norms of behavior and effectively promoted her social and political agendas. Drawing on visual evidence, inventories, letters, and contemporary texts, de Vries offers a penetrating new interpretation of women's contributions to early modern culture. She explains the correlations between prescriptive literature and women's actions and reveals the mutability of gender roles in the princely courts. De Vries's analysis of Sforza's posthumous legend suggests that what we see as "the Renaissance" was as much a historical invention as a coherent moment in historical time.