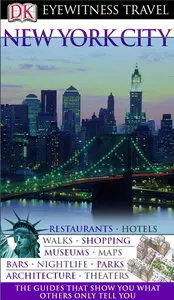 New York (EYEWITNESS TRAVEL GUIDE) By Eleanor Berman, Annelise Sorensen
Publisher: DK Travel 2006-03-20 | 448 Pages | ISBN: 075661533X | PDF | 60 MB
At first glance New York City might seem overwhelming, but the Eyewitness Travel to New York will make the city feel uncomplicated. Take a bite out of the Big Apple as you discover New York's shopping, museums, restaurants, hotels, parks, nightlife, and theaters. This lavishly illustrated guide will enlighten your experience and make it easy to manage. Everyday in New York offers its visitors something new to see and experience.

<span style="color:#cc0000"><u>DoWnLoAd FiLe</u></span>
<span style="color:#0033ff"><u>mirror</u></span>
>>:: NO PASSWORD ::<<
mirror
>>::..::!!!NO MIRRORS!!!::..::<<