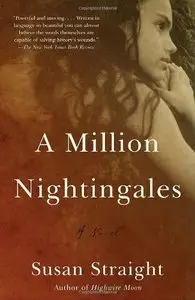 A Million Nightingales By Susan Straight
Publisher: Anc.,.hor 2007 | 368 Pages | ISBN: 140009559X | EPUB + PDF | 2 MB + 2 MB
Set in Southern plantations and bayous during the years just following the Louisiana Purchase, Straight's impressionistic character study effectively evokes the conflicted mélange of races, nationalities and cultures that defined the early 19th-century territory. The novel spans the life of Moinette, a "mulatresse," beginning with the events that wrench her from her mother at age 14, to her final days in her 40s. Moinette's first young mistress, Cephaline, exposes her to book learning, and Moinette struggles to negotiate the contradictions between the language of science and her mother's belief in traditional Senegalese spirits, a dichotomy that haunts her throughout her life. After Cephaline's premature death, Moinette, light-skinned and beautiful, is sold upriver and separated from her beloved mother. She repeatedly suffers sexual assault and must use her wits to protect herself, and later her son and daughters. While Straight (Highwire Moon) vividly depicts the danger and degradation black women faced, she also makes feminist comparisons between Moinette's enslavement and the situations of her wealthy white mistresses. However, the terms of Moinette's very sophisticated understanding of what's happening to her seem anachronistic, and the success she achieves, combined with the handy coincidences that lead to it, although tempered with tragedy, are too convenient to be entirely convincing.
!!!No Mirrors below, please! Follow Rules!